Origins of Bar Code Graphics
July 26, 2016 in Bar Code Graphics
From the first origins of Bar Code Graphics to today, our passion for precision and reliability drives what we do. Your business demands reliable barcodes that scan easily – the first time, every time. With the high cost of non-compliance and performance mistakes, anything less than perfect is unacceptable. And that mission for perfection is the foundation our company has been built upon.
But we didn't get where we are overnight!
From Complicated Beginnings…
Our legacy began when the framework of the UPC numbering and barcode language was first conceived. With the finalization of the system, a problem emerged – how do we get a barcode label on every product, which can be successfully scanned the first time at every point of sale system? Remember, this was a time long before digital printing was developed! The only solution available involved the traditional printing process, made up of printers, designers, platemakers, and typesetters. Due to the nature of barcodes, every drawn code had to be created with utmost precision.
That's where the founder of Bar Code Graphics, Bob Verb, came in. With specialized expertise in machine-readable typesetting, he was chosen to be part of the original committee responsible for establishing a process to create these printed barcodes. Together, the committee determined a way to successfully print accurate, scan-able barcodes. The prevailing method started with very precise artwork that also compensated for "print growth" (growth experienced during plate making and due to ink spread when printed). This artwork, also known as a "film master", had to be accurate to an incredible +/- 0.0002", plus room for print growth! A measuring process also had to be defined in order to ensure the artwork was impeccable. This stage was vitally important; it was the only time that quality control could be performed before printing began.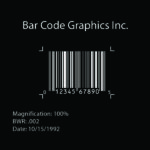 15 years after defining the techniques that started it all, Bar Code Graphics went on to become one of the largest suppliers of film masters in North America. Fittingly, the company was established as the leader in barcode origination and printing.
Our company's history is something to be proud of! But when it came to leading the industry, Bar Code Graphics didn't stop there.
Problems In The Digital Era (And How We Solved Them)
During the 1990's, the desktop publishing revolution exploded – and everyone was jumping on board. Including the barcode industry. Unfortunately, there was a trade-off to the benefit of easy digital integration.
Quality
Various software applications for printing barcodes were being released, but without standard specifications to provide exacting guidance. This meant that barcode quality declined, precision was sacrificed and scan-ability was unpredictable. This prompted the Uniform Code Council (now known as GS1 US) to create new documents on how to access print quality and build more precise software. As the industry leader, Bar Code Graphics stepped up as an active participant in the creation of these new guidelines.
In 2001, Bar Code Graphics released the first online application to create digital barcodes with software (PrecisionCode) that followed the exact guidelines of the UCC. This online application still thrives today at www.createbarcodes.com. A few years later, GS1 US would offer software certification, and the PrecisionCode application became the only certified software.
To date, over 110,000 different users have created over 20 million digital barcode files from www.createbarcodes.com. And as the only site certified to create high-resolution digital barcodes, the choice is apparent. Our commitment to being the best barcode originator pushed us to go one step further; The PrecisionCode application also interfaces directly with our partners' internal numbering applications. This means our barcode files are easily integrated with medical device packaging, coupons, general products, food packaging/labels, and books!