Create ITF-14 Barcode
The ITF-14 is used to mark cartons, cases, or pallets that contain products marked with UPC or EAN identification numbers. They are used by retailers, manufacturers, and distributors for accurate logistical and inventory handling. The specific barcode used to encode the ITF-14 is Interleaved 2of5.
Our GS1 Barcode Service assists companies that need assistance assigning these numbers. Click here to sign up for our GS1 Barcode Service.
The 14-digit string encoded in an ITF-14 is referred to as a GTIN-14. If you already have a GTIN-14 number, enter the first 13 digits into the site. The site will calculate the check digit – the 14th digit – automatically. Make sure the site check digit matches the 14th digit of your GTIN-14 to confirm that the number has been assigned and entered correctly.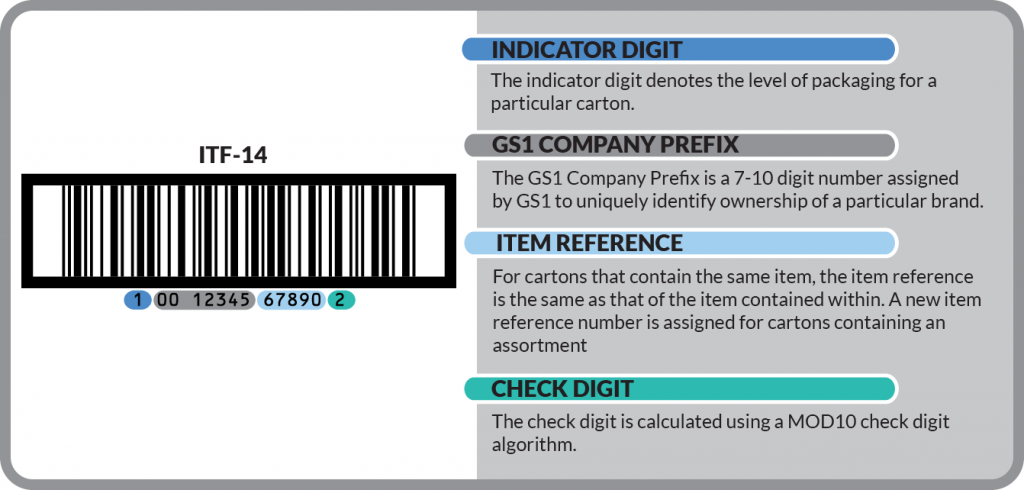 Bearer boxes and bearer bars are a standard feature for ITF-14 barcodes. Bearer boxes are thick lines above, below, and to the sides of the symbol and bearer bars are just above and below. They help with the printing process and prevent misreads for barcodes read at an angle.